Loading...



From WKYC.COM / TV 3
Get the latest school closings and delays


Funding for WKSU is made possible in part through support from the following businesses and organizations.
---
For more information on how your company or organization can support WKSU, download the WKSU Media Kit.

(WKSU Media Kit


)
---

Economy and Business



Thursday, June 9, 2011




Cuyahoga seeking agreement on business poaching among communities




Signing increases odds of receiving county financial help


by WKSU's KEVIN NIEDERMIER


Reporter
Kevin Niedermier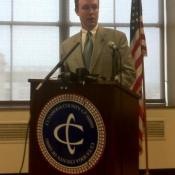 Cuyahoga County Executive Ed FitzGerald talks about his anti-poaching plan after meeting with representative from county communities.
Courtesy of Kevin Niedermier
Download (WKSU Only)
In The Region:
Cuyahoga County communities are being asked to stop poaching businesses from each other. Today County Executive Ed FitzGerald met with community representatives to discuss a draft proposal. As WKSU's Kevin Niedermier reports, the voluntary agreement is a work in progress that interested communities have a few months to formalize.
---
---