Loading...



From WKYC.COM / TV 3
Get the latest school closings and delays


Funding for WKSU is made possible in part through support from the following businesses and organizations.
---
For more information on how your company or organization can support WKSU, download the WKSU Media Kit.

(WKSU Media Kit


)
---

Sports



Wednesday, June 22, 2011




Can you say Valanciunas?




Commentator Terry Pluto says Cavs fans might want to learn Lithuanian


by WKSU's AMANDA RABINOWITZ


Morning Edition Host
Amanda Rabinowitz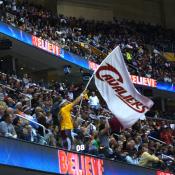 Thursday is the NBA draft and the Cavs are eyeing some top prospects with tricky names, like Jonas Valanciunas
Courtesy of Brandon Davis
Download (WKSU Only)
In The Region:
Cleveland Cavaliers fans who endured a tumultuous year have been waiting for Thursday. The Cavs, by the luck of the ping pong balls in last month's lottery, will pick first and fourth in Thursday's NBA draft. And, they could potentially grab the top two players on the market.

WKSU commentator Terry Pluto talks to Amanda Rabinowitz about the draft and the non-household names emerging as the top picks.

---
---