Loading...


Environment



Tuesday, June 28, 2011




Northeast Ohio food co-op puts members down on the farm




Three hours of labor are required for buy-in; 10 days will get you a discount


by WKSU's M.L. SCHULTZE


and

ANNA STAVER



Web Editor
M.L. Schultze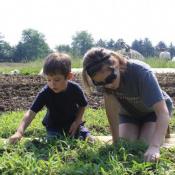 Jenny Neel and her son Jordan Neel hand pick a row of beets.
Courtesy of Anna Staver
Download (WKSU Only)
In The Region:
Food co-ops – where families buy shares of produce direct from the farm – have been growing rapidly, and 35 are now doing business in Northeast Ohio. But one such operation in Bath – west of Akron – is doing that business a little differently. And, thanks to the spring rains – a little more intensely.
←
Tom Haller uses a garden hoe to weed a row of root vegetables. He's done a wide variety of jobs at Crown Point, and says weeding is definitely hard work.
←
Joanna Caley uses a garden hoe to weed carrots and turnips. She's been buying a share for six years, and she's been a working share member for two.
---
---
---
Stories with Recent Comments