Loading...


Environment



Monday, July 11, 2011




Perry plant should see another 20 years




Nuclear watchdog says radiation exposure at Perry power plant won't affect license renewal




Story by

DAWN EINSEL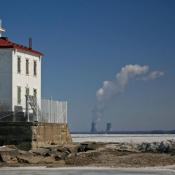 The Perry nuclear power plant, located Northeast of Cleveland, is owned by First Energy. The company has applied to renew the licenses for both Perry and Oak Harbor's Davis Besse.
Download (WKSU Only)
The renewal of the license for Ohio's Perry nuclear power plant likely will not be jeopardized by the exposure of contractors earlier this year to higher levels of radiation. The Nuclear Regulatory Commission says First Energy did not provide the right kind of equipment and instruction for four contractors who were removing a piece of equipment from under the reactor in April. First Energy is the parent company of both of Ohio's nuclear power plants. And it's applying for 20-year license renewals for both plants. David Lochbaum is director of the nuclear safety project of the Union of Concerned Scientists. He says the recent incident will not affect the Perry license.
The workers were exposed to a level of radiation equal to three chest X-rays. Lochbaum says it was luck – not procedures – that kept them from being exposed to more. FirstEnergy's Todd Schneider says the Akron-based utility takes the situation seriously and is making improvements.
---
---
Stories with Recent Comments