Loading...



From WKYC.COM / TV 3
Get the latest school closings and delays


Funding for WKSU is made possible in part through support from the following businesses and organizations.
---
For more information on how your company or organization can support WKSU, download the WKSU Media Kit.

(WKSU Media Kit


)
---

Environment



Monday, August 1, 2011




OH can learn from PA about fracking




Everything is large scale with the new "gas play" in Ohio: the energy that can be produced; the money; the impact on communities; and the controversy


by WKSU's TIM RUDELL


Reporter
Tim Rudell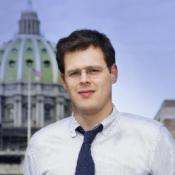 Scott Detrow covers energy issues for StateImpact Pennsylvania, a public radio collaboration.
Download (WKSU Only)
In The Region:
The shale-gas drilling boom is here. Any doubt about it happening vaporized last week when drilling giant Chesapeake Energy said production just from the oil and gas leases it now holds in Ohio could yield up to $20 billion. For perspective on what this may mean to the state, WKSU's Tim Rudell talks Scott Detrow, the State Impact Pennsylvania reporter who is covering the way a similar shale boom has been playing out in his state
---
Related Links & Resources
stateimpact.npr.org/pennsylvania
---
---