Loading...


Courts and Crime



Wednesday, August 10, 2011




Jury recommends death sentence for Anthony Sowell




The Cuyahoga County jury unanimously decided that Sowell should die for each of the 11 counts of murder he was convicted of last month




by WKSU's ANNA STAVER



Reporter
Anna Staver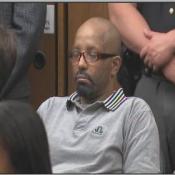 Anthony Sowell as the verdict was read last month at his criminal trial. Sowell was convicted of raping and murdering 11 women whose remains were found in and around his East Cleveland home.
Courtesy of WKSU
Download (WKSU Only)
A Cuyahoga County jury recommended a death sentence today (Wednesday) for convicted serial killer Anthony Sowell. The jury had the choice between the death penalty, or life in prison without parole. Judge Dick Ambrose read the jury's verdict for each of Sowell's 11 victims.
"We the jury, being duly empaneled and sworn, do herby find that the aggravating circumstances, which the defendant was found guilty of committing, do outweigh the mitigating factors in this case by proof beyond a reasonable doubt. We therefore unanimously find that the sentence of death should be imposed upon the defendant Anthony Sowell."

Sowell's fate now rests in the hands of Judge Ambrose, who will decide whether to accept the jury's recommendation or commute to life in prison without parole. The Judge says he will announce a decision Friday morning.
---
---
---
Stories with Recent Comments