Loading...


Education



Wednesday, September 7, 2011




Kasich turns felonies into misdemeanors for Akron mom who lied about address




Governor says the punishment was excessive for the crime


by WKSU's M.L. SCHULTZE


Web Editor
M.L. Schultze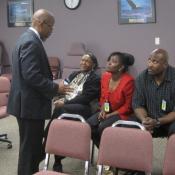 Kelly Williams Bolar during her clemency hearing this spring.
Courtesy of Karen Kasler
Download (WKSU Only)
In The Region:
Gov. John Kasich is overruling the state Parole Board in the case of an Akron mother who lied about where her children lived in order to get them into a suburban school district. Kasich used his clemency powers today (Wednesday) to lessen Kelly Williams Bolar's conviction from two felonies to two misdemeanors. A Summit County jury had convicted Williams Bolar last winter on the charges of tampering with records. Though she always maintained her concern was for her children's safety as latchkey kids at her Akron housing complex, national advocates adopted her cause as a case for school choice and civil rights. The governor asked the parole board to review the case. Last week, it recommended against clemency. In overriding the board, Kasich said he felt the punishment was excessive for the crime and that Williams Bolar deserved a second chance.
---
---
---
Stories with Recent Comments