Loading...


Ohio



Wednesday, October 19, 2011




Dozens of exotic animals escape from Muskingum County farm




Farm owner's body found Tuesday night, sheriff says he could have killed himself on "Today" Show




by WKSU's MARANDA SHREWSBERRY




and

STEVE BROWN



Reporter
Maranda Shrewsberry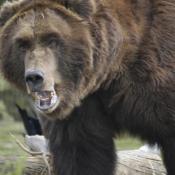 Grizzly bears, tigers, lions and wolves are among the animals that could have escaped the exotic animals farm in Muskingum County. Police have accounted for 35 of the 48 that escaped, killing about 30.
Courtesy of Flickr
Download (WKSU Only)
In The Region:
There could still be a dozen exotic animals on the loose in and around Muskingum County. Bears, big cats and other potentially dangerous animals escaped from an animals farm there where the body of the owner was found.

Lutz suggests residents stay inside and report any exotic animal sightings.

On NBC's "Today" show, Muskingum County Sheriff Matt Lutz said authorities are waiting for autopsy results that will determine how farm owner Terry Thompson died. When asked if Thompson killed himself, Lutz answered that anything is possible.


Police are still combing rural Muskingum County, looking for lions, tigers, bears and other animals. From member station WOSU, Steve Brown reports.
"Police have not said how farm owner Terry Thompson died, but they say the fences to the Muskingum County Animal farm were left unsecured and all of the animal cages were open. It's not yet clear who or what opened those cages.
Students at at least four school districts are being kept home this morning, and police are urging people to stay inside if possible. Police say they've killed about 30 of the 48 animals that escaped."
---
---
---
Stories with Recent Comments