Loading...



From WKYC.COM / TV 3
Get the latest school closings and delays


Funding for WKSU is made possible in part through support from the following businesses and organizations.
---
For more information on how your company or organization can support WKSU, download the WKSU Media Kit.

(WKSU Media Kit


)
---

Government and Politics




Wednesday, November 9, 2011




Hubris, chutzpah may have done in Issue 2




Lessons may be learned for 2012 election


by WKSU's M.L. SCHULTZE
This story is part of a special series.



Web Editor
M.L. Schultze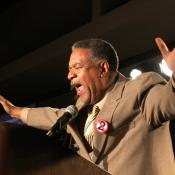 Bishop Tony Minor leads the crowd in a prayer during We Are Ohio's election watch party on Tuesday, Nov. 8. The state's collective bargaining law was repealed 61-39.
Courtesy of Valerie Brown
Download (WKSU Only)
Republicans, Democrats and pundits are parsing the defeat of state Issue 2 for hints of what's to come in 2012. WKSU's M.L. Schultze sat down with the Bliss Institute's David Cohen to talk about lessons learned and expected to be applied in the next presidential election year.
Cohen says the wide margin of the defeat of the state's new collective bargaining law seems to come down to the political hubris that went into the GOP's making of that law last spring.
Cohen notes that President Obama has already announced he hopes to raise a billion dollars for his re-election campaign.
---
---
---