Loading...



From WKYC.COM / TV 3
Get the latest school closings and delays


Funding for WKSU is made possible in part through support from the following businesses and organizations.
---
For more information on how your company or organization can support WKSU, download the WKSU Media Kit.

(WKSU Media Kit


)
---




Wednesday, November 9, 2011




Terry Pluto: Penn State scandal "unconscionable"




Sports commentator Terry Pluto, who also does jail ministry, talks about Penn State sex abuse allegations


by WKSU's AMANDA RABINOWITZ


Morning Edition Host
Amanda Rabinowitz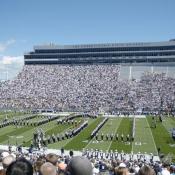 Penn State football coach Joe Paterno has decided to retire at the end of the season, his long career brought down by his failure to do more about an allegation of child sex abuse against a former assistant.
Download (WKSU Only)
The sex-abuse scandal engulfing Penn State University likely will reach far. Days after former assistant football coach Jerry Sandusky was indicted – accused of abusing eight young boys over 15 years, 84-year old head coach Joe Paterno says he will retire at the end of this season. WKSU commentator also does jail ministry. He talks to Amanda Rabinowitz about his initial reaction, what's next and the impact of a scandal of this magitude.
---
---