Loading...


Science and Technology



Monday, November 14, 2011




Goodyear blimp gondola heading to the Smithsonian




The car got its start in the Depression and continued flying into the mid-80s


by WKSU's M.L. SCHULTZE


Web Editor
M.L. Schultze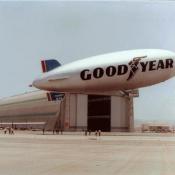 Car C-49 was attached to a number of blimps after the one for which it was built, The Enterprise, in 1934.
Courtesy of Goodyear Tire and Rubber Co.
Download (WKSU Only)
In The Region:
Goodyear is donating one of its longest-serving blimp gondolas to the Smithsonian Air and Space museum. The car that extends below the blimp was first put into service in 1934. It flew for eight years as part of the company's commercial fleet then was sold to the Navy in 1942. Tom Crouch is senior curator of aeronautics for the Smithsonian. He says the airships were uniquely qualified to protect Navy convoys from submarines.
"Blimps can loiter. They can stand still in the air. They can move as slowly as a ship's moving. They have a really good view of what's going on below. They can see shapes in the water that you can't see from the ship on the surface. They carried special electronic gear to identify submarines under the surface and of course weapons to attack the subs."
After the war, Goodyear bought back the car and stored it at his hangar in southern Summit County. It then rebuilt the car in 1969 and flew it from 1975 through 1986.
---
---
---
Stories with Recent Comments