Loading...



From WKYC.COM / TV 3
Get the latest school closings and delays


Funding for WKSU is made possible in part through support from the following businesses and organizations.
---
For more information on how your company or organization can support WKSU, download the WKSU Media Kit.

(WKSU Media Kit


)
---




Wednesday, November 16, 2011




Terry Pluto: NBA's 'nuclear winter' an ugly display by players




Terry Pluto says NBA player reps aren't in reality in rejecting latest contract offer


by WKSU's AMANDA RABINOWITZ


Morning Edition Host
Amanda Rabinowitz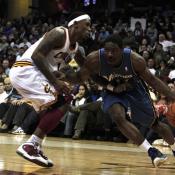 Terry Pluto says the owners' 50/50 profit sharing offer was fair, considering the economic recession
Courtesy of Dawn Einsel
Download (WKSU Only)
It's increasingly likely that the Cavs won't get to see their team play this season after a much-hyped off-season that landed Cleveland the top draft pick. The NBA players union rejected a contract offer this week, and plans to dissolve and sue the league for antitrust violations. WKSU commentator Terry Pluto talks to Amanda Rabinowitz about his reaction to the possibility of what NBA commissioner David Stern describes as an impending "nuclear winter."
---
---