Loading...


Sports



Wednesday, November 30, 2011




Pluto: Meyer's huge salary is worth it to Ohio State




Terry Pluto says Urban Meyer's more than $24 million salary over six years, not including millions in perks, is justified for OSU


by WKSU's AMANDA RABINOWITZ


Morning Edition Host
Amanda Rabinowitz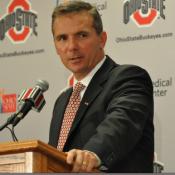 Terry Pluto says Urban Meyer brings with him a history of health problems and a hot temper, but he's worth the price to Ohio State.
Courtesy of Ohio State University
Download (WKSU Only)
Ohio State University's new football coach will be among the five highest paid in the country. Ashtabula native Urban Meyer will make more than$4 million a year, plus millions in incentives, in his six year contract – which might then be extended to seven. He brings two national titles from the University of Florida, along with a history of health issues and a hot head. WKSU commentator Terry Pluto talks about the deal and whether Meyer has staying power in Columbus.
---
Related WKSU Stories

Pluto: Caring fans deserve thanks
Wednesday, November 23, 2011

Trains, Cavs, scrapbooks and best friends
Tuesday, November 22, 2011

Terry Pluto: Penn State scandal "unconscionable"
Tuesday, November 8, 2011

Big heart vs. big paycheck
Wednesday, November 2, 2011
---
---
---