Loading...


Sports



Wednesday, December 7, 2011




"Year 2" for the Cavs begins day after Christmas




Terry Pluto says the Cavs return from the lockout hoping to re-identify themselves in the second year of the post-Lebron James era


by WKSU's AMANDA RABINOWITZ


Morning Edition Host
Amanda Rabinowitz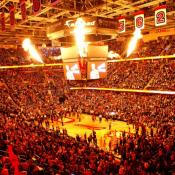 The Cavs tip off the shortened NBA season December 26 vs. Toronto.
Courtesy of Dawn Einsel
Download (WKSU Only)
The Cleveland Cavaliers return from the NBA lockout the day after Christmas against Toronto. WKSU commentator Terry Pluto calls this shortened season "Year 2" for Cavs fans. He's referring to the second year after LeBron James left Cleveland for Miami. Terry Pluto talks with WKSU's Amanda Rabinowitz about what fans can expect from a young team that's still trying to find its identity – and talent – after the LeBron era.
---
Related WKSU Stories

Pluto: Meyer's huge salary is worth it to Ohio State
Wednesday, November 30, 2011

Pluto: Caring fans deserve thanks
Wednesday, November 23, 2011

Terry Pluto: NBA's 'nuclear winter' an ugly display by players
Wednesday, November 16, 2011

Trains, Cavs, scrapbooks and best friends
Tuesday, November 22, 2011
---
---
---