Loading...



From WKYC.COM / TV 3
Get the latest school closings and delays


Funding for WKSU is made possible in part through support from the following businesses and organizations.
---
For more information on how your company or organization can support WKSU, download the WKSU Media Kit.

(WKSU Media Kit


)
---

Government and Politics



Wednesday, December 7, 2011




Sutton to run against Renacci




The redrawing of district lines will pit incumbent vs. incumbent in new 16th District.




Story by

GRANT ENGLE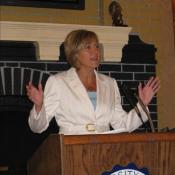 Democrat Betty Sutton, a resident of Copley Township, now lives within the 16th District after the redrawing.
Download (WKSU Only)
In The Region:
Congresswoman Betty Sutton is going to challenge freshman Representative Jim Renacci, thanks to the new Ohio congressional map Republicans have created. Sutton announced Wednesday that she will run for the 16th Congressional District, whose new boundaries extend from Stark County up to Westlake. Some of that is now part of the 13th District, where Sutton is currently the incumbent. The Democratic Sutton said that she was targeted by Republicans during the redrawing of the district lines.
"We've seen from Republicans in Columbus an agenda of trying to silence working people. Whether it was passing Senate Bill 5, and then locking us out of the statehouse or passing a partisan map behind closed doors without public input. They have attempted one power-grab after another."
Sutton said she is proud of her record in the 13th District, and is looking forward to helping more citizens of Northeast Ohio.
Renacci could not be reached for comment. But he said in a statement that regardless of who runs against him in 2012, he will focus on improving the economy of Northeast Ohio.
Page Options

Print this page

E-Mail this page / Send mp3

Share on Facebook
---
---
Stories with Recent Comments