Loading...


Courts and Crime



Wednesday, December 28, 2011




Cleveland house flipper indicted




Florida man flipped nearly 250 Cleveland-area homes with doctored paperwork


by WKSU's KABIR BHATIA


and

M.L. SCHULTZE



Reporter
Kabir Bhatia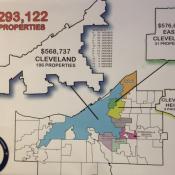 Blaine Murphy's scheme netted 235 properties in Cuyahoga County alone, and he still owns 79 of them. Judge Raymond Pianka froze those sales earlier this year while authorities searched for Murphy.
Courtesy of Cuyahoga County
Download (WKSU Only)
In The Region:
Bryce Peters Financial is the name prosecutors say Blaine Murphy used to flip homes in Ohio, and at least four other states. Buying a property and selling it for a quick profit is not illegal, but Murphy is accused of doing it with forged deeds. Now, as WKSU's Kabir Bhatia reports, the Florida man faces up to 66 years in prison.
When banks foreclose on properties, they often resell them in groups. Investors like Blaine Murphy buy them up and try to sell them at a profit. But Cuyahoga County Prosecutor Bill Mason says Murphy took a few shortcuts, including doctored paperwork.

"In his quest to make a quick buck, Murphy ignored property code violations and payment of taxes. He then sold the properties, in bulk, to individuals over the internet. The forgeries hid the real identity of Murphy and made it difficult, if not impossible, to make contact with the individuals responsible for maintenance and for tax payments on these properties."

Mason says Blaine Murphy racked up over a million dollars in back taxes through his scheme. Last summer, while the FBI searched for Murphy, Cleveland's housing court judge froze nearly 80 pending sales, some of which were priced at as little as one-thousand dollars. Murphy was cited for contempt 53 times by Judge Raymond Pianka, racking up $9.5 million in fines.

Since last year, housing prices in Northeast Ohio have fallen 2.4 percent. And they're now cheaper than they were in 2000.Frank Ford of Cleveland's Neighborhood Progress says that makes the region ripe for out-of-state flippers such as Blaine Murphy.

"He's really only one of about twenty similar investors who come in and descend upon our state like vultures to pick up these properties. And what's interesting is if you track the properties that went through his hands, many of them were transferred to other competitors or colleagues of his. And I did talk to one of them who told me there's even an annual Christmas party that they all go to in South Carolina. This is gonna send a strong message to all these bad actors that we would really rather they stay out of Cleveland with this activity."

In addition to the 235 properties in Cuyahoga County, Murphy is accused of flipping homes in Columbiana, Franklin and Warren counties, and in Texas, Missouri, Michigan and Pennsylvania.

FBI agents tracked him to Naples, Florida last week, where he's expected to fight extradition. He's scheduled to be arraigned January 10th in Cleveland on charges of racketeering and money laundering.

---
---
---
Stories with Recent Comments