Loading...


Sports



Wednesday, January 4, 2012




Terry Pluto: Why it's better to be bad




Commentator Terry Pluto reflects on an especially brutal 2011 in Cleveland pro sports and looks ahead to 2012


by WKSU's AMANDA RABINOWITZ


Morning Edition Host
Amanda Rabinowitz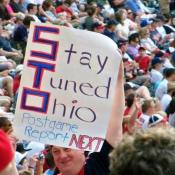 2011 in Cleveland pro sports saw the Indians fading after starting hot, the Cavs recording just 19 wins, and the Browns going 4-12.
Courtesy of Amanda Rabinowitz
Download (WKSU Only)
2011 was a brutal year for Cleveland pro sports fans. We watched the Cavs finish second worst in the NBA during the team's the first season without LeBron James. The Indians fizzled out after a winning spring. And this past weekend, the Browns finished their season 4-12 with a lackluster loss to the Steelers.

WKSU commentator Terry Pluto talks to Amanda Rabinowitz about 2011 in Cleveland sports and what could get fans back in the game in 2012.
---
Related WKSU Stories

Cavs' 2012 is the year of the rookie
Tuesday, December 27, 2011

Terry Pluto looks at why Mike Holmgren may have confronted critics
Wednesday, December 21, 2011

"Year 2" for the Cavs begins day after Christmas
Wednesday, December 7, 2011

Trains, Cavs, scrapbooks and best friends
Tuesday, November 22, 2011
---
---
---