Loading...


Environment



Friday, January 6, 2012




NRC tells public that Davis Besse is safe




Source is unknown of cracks in concrete shell around reactor


by WKSU's KABIR BHATIA


Reporter
Kabir Bhatia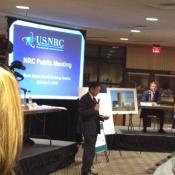 Congressman Dennis Kucinich addresses the meeting and Davis Besse VP Barry Allen
Courtesy of K. Bhatia
Download (WKSU Only)
In The Region:
The Nuclear Regulatory Commission held a meeting in Port Clinton Thursday to tell the public why the Davis Besse power plant is safe to operate again. The nuclear facility, owned by Akron-based FirstEnergy, was closed for maintenance last fall when hairline cracks were discovered in the concrete wall around the reactor. The Commission has given the OK for the plant to re-start, but as WKSU's Kabir Bhatia reports, that's not enough for some of the few hundred residents that attended.
No one knows what caused the cracks in the concrete shell around Davis Besse's reactor. But the plant was re-started in December, just two months after the cracks were found. Cynthia Pederson, a regional administrator for the Nuclear Regulatory Commission, says the inspection shows there are no structural problems with the shell for the time-being.

"We had about 10 of our structural experts involved in this. And after hundreds and hundreds of hours of inspection which involved monitoring the licensees activities, examining for themselves what the conditions were, looking at the methodology that was used to do an evaluation. Making sure the sampling of the material was representative. Our folks asked just tons and tons of questions. And that's the process we used. We satisfied ourselves that that structure to be currently used, as well as it would remain safe in the future."

The outer concrete structure is two and a half feet thick. Inside is the nuclear reactor, and in between the two is a steel shell.

"That steel inner containment vessel is really the primary place that would keep radiation in. However, if there was a small breech in that, there is a system that sucks in the air from that area in between the concrete and that steel, and then filters that release before it would go out into the environment. But the primary purpose is really to protect that inner containment vessel from things such as tornadoes."

When it was built in the 1970s , the shell was supposed to withstand winds up to 300 miles per hour, and earthquakes up to 6.5 on the Richter scale. Joseph Demare of Bowling Green is an industrial machinist who works with ceramics, which he says are similar to the concrete used at Davis Besse.

"Since they don't know what's causing the concrete cracking, they cannot guarantee us it will perform that way now, 35 years later. I can tell you that ceramic can look fine up until the point you put too much pressure on. Then suddenly it cracks, suddenly it fails. You don't get many warnings. Sometimes you get a little crack here and there, but usually the failure comes very suddenly and it's a big surprise."

Phyllis Oster of Bowling Green left the meeting still concerned about her town's proximity to both Davis-Besse and the Fermi plant in Michigan.

"I've been against the Davis-Besse plant since it was first a bright idea. Well I worked in genetics and I know the effects of radiation on humans. This is a very aged plant. We know what just happened in Japan. And we are exposed to too much radiation right now. If you live near a body of water, you're in danger of being irradiated by a nuclear plant."

Davis Besse has had repeated problems over its 34 years of operation that have forced it to shut down for periods ranging from weeks to years. Those include acid nearly eating a whole though the reactor head, and cracks appearing just a few years later in its replacement. Michael Leonardi of Toledo blames the plant for his father's recent death from a form of Leukemia. He cites the area's cancer rate, and the low impact of Davis Besse's recent idling, as two reasons the plant should be closed altogether.

"Perry and Davis Besse were both offline a couple months back. There were no rolling blackouts. The bulk of the energy output is used in July August when it's hot and everyone's got their air conditioners on."

But Todd Schneider, spokesman for FirstEnergy, says the plant is safe to operate, and 750 thousand people are relying on its power.

"To replace power from Davis Besse would take several thousand windmills, which would only operate 30 percent of the time. And we know our customers don't want power just thirty percent of the time."

The Commission has given the company till the end of February to determine the cause of the cracks. FirstEnergy also says it will develop a long-term building monitoring plan for the building.
---
---
---
Stories with Recent Comments