Loading...



From WKYC.COM / TV 3
Get the latest school closings and delays


Funding for WKSU is made possible in part through support from the following businesses and organizations.
---
For more information on how your company or organization can support WKSU, download the WKSU Media Kit.

(WKSU Media Kit


)
---




Wednesday, January 11, 2012




Pluto weighs in on faith on the field




Terry Pluto discusses why Tim Tebow's public displays of faith rub people the wrong way


by WKSU's AMANDA RABINOWITZ


Morning Edition Host
Amanda Rabinowitz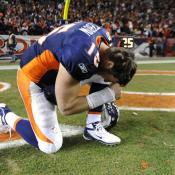 Tim Tebow celebrates his 80 yd touchdown pass to beat the Pittsburgh Steelers in the first round of the AFC playoffs. AAron Ontiveroz, The Denver Post
Courtesy of AAron Ontiveroz, The Denver Post
Download (WKSU Only)
Denver Broncos quarterback Tim Tebow has become one of the most celebrated and controversial sports figures. He's led his underdog team to the NFL playoffs with a series of miraculous last-minute wins – including last Sunday against the Steelers. He credits God. And that's where the controversy comes in. Since his days at the University of Florida, Tebow has been outspoken in his faith. His signature act of getting down on a knee and praying to celebrate a touchdown is now a pop-culture term: Tebowing. And now that he's an NFL star, it's bringing up a bigger debate. WKSU commentator Terry Pluto talks to Amanda Rabinowitz about Tim Tebow's public displays of his Christianity.
---
---
---