Loading...



From WKYC.COM / TV 3
Get the latest school closings and delays


Funding for WKSU is made possible in part through support from the following businesses and organizations.
---
For more information on how your company or organization can support WKSU, download the WKSU Media Kit.

(WKSU Media Kit


)
---

Environment




Monday, January 23, 2012




Exploradio - The march of the bat killer




A quiet killer is stalking bats in Ohio. Biologists are in a race against time in the fight against white nose syndrome.


by WKSU's JEFF ST. CLAIR
This story is part of a special series.



Reporter / Host
Jeff St. Clair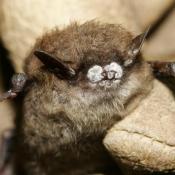 The telltale sign of a killer disease. White nose syndrome is a form of fungus that attacks hibernating bats. Experts estimate it has killed 5.7 - 6.7 million bats in the past 4 years.
Courtesy of US F&WS
Download (WKSU Only)
Wildlife biologists in Ohio are poking around caves and abandoned mines this month to count hibernating bats. A recent national bat conference detailed the spread of a killer disease wiping out bats in the Northeast saying nearly 7 million animals have died from white nose syndrome. In this week's Exporadio we speak with Ann Froschauer from the U.S. Fish & Wildlife Service. She's on the front-lines of the battle for the bats.
Page Options

Print this page

E-Mail this page / Send mp3

Share on Facebook
---
---
---
---
---
Stories with Recent Comments