Loading...


Sports



Wednesday, January 25, 2012




Baseball's Dominican connection




Terry Pluto talks about the Indians' Fausto Carmona, and says fake identities are in the fabric of Major League Baseball


by WKSU's AMANDA RABINOWITZ


Morning Edition Host
Amanda Rabinowitz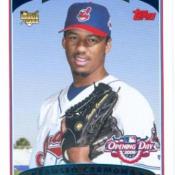 Indians veteran pitcher Fausto Carmona was signed in 2000 and is now detained in the Dominican Republic on fake identity charges.
Download (WKSU Only)
Indians fans were stunned last week when veteran pitcher Fausto Carmona was arrested in his native Dominican Republic for using a fake identity. His real name is Roberto Hernandez Heredia, and he's 31 years old – three years older than the Indians list him. Carmona is the second major leaguer in recent months to get busted for a fake identity. A Miami Marlins pitcher is still detained in the Dominican after his arrest last September. WKSU commentator Terry Pluto talks to Amanda Rabinowitz about Carmona and the Dominican Republican, which has long been Major League Baseball's pipeline for young talent.
---
---
---