Loading...


Sports



Wednesday, February 1, 2012




Pluto: High expectations, few scholarships on National Signing Day




Commentator Terry Pluto says National Signing Day comes with unrealistic expectations from parents and pressures from coaches


by WKSU's AMANDA RABINOWITZ


Morning Edition Host
Amanda Rabinowitz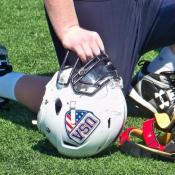 Only about 2,000 high school seniors nationwide will get scholarships to play football at Division I colleges on National Signing Day.
Courtesy of Amanda Rabinowitz
Download (WKSU Only)
Today is when the best high school athletes in the country sign letters of intent to play sports on college scholarships. With that, come some unrealistic expectations and pressures for students, parents, and coaches. WKSU commentator Terry Pluto talks to Amanda Rabinowitz about National Signing Day - that's ballooned from a simple, signed fax to a nationally-televised event.
---
Related WKSU Stories

Baseball's Dominican connection
Wednesday, January 25, 2012

Former Indian Manny Ramirez wants back in baseball's good graces
Wednesday, January 18, 2012

Pluto weighs in on faith on the field
Wednesday, January 11, 2012

NCAA ups the penalties against Ohio State
Tuesday, December 20, 2011

Pluto: Caring fans deserve thanks
Wednesday, November 23, 2011
---
---
---