Loading...


Environment



Thursday, February 2, 2012




The promise of billions of dollars for Ohio's economy is not enough




Anti-fracking groups are now looking to practical politics to fight the controversial drilling technology


by WKSU's TIM RUDELL


Reporter
Tim Rudell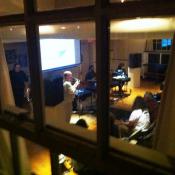 about 200 people filled the lower level meeting room at Channing Hall across from Wick Park in Youngstown. It was a chilly night.
Courtesy of Rudell
Download (WKSU Only)
In The Region::
As drilling rigs fan out over Ohio, an anti-fracking movement is spreading too. But WKSU's Tim Rudell reports that discussions – like the one in Youngstown Thursday night is no longer as likely to be pro and con as it is to be an examination of the nuances of science, law and the economy.
Gatherings focused on the burgeoning shale-drilling industry are cropping up in increasing numbers.

Some seek the scientific knowns and unknowns of the process in which millions of gallons of chemical-laced water are forced into shale formations to release trapped gas and oil. Some aim to stop drilling altogether.

And, some are taking a next step, and focusing on how to influence law, policy and regulations on drilling. That's what's happening here, in Channing Hall, across from Youngstown's historic Wick Park.Ben Shapiro of the Sierra Club is talking to the gathering of several hundred. "New York State passed a moratorium on fracking, and the first step was twenty four small towns banning it. We can do that here."

Meetings like this to find avenues for practical action are proliferating as Ohio increasingly embraces fracking as an economic boon, and leaders, including President Obama in his state of the union address, talk of the need to expand drilling—albeit responsibly.
---
---
---
Stories with Recent Comments