Loading...


Economy and Business



Monday, February 13, 2012




For six quarters in a row there are key signs of recovery




The organization that markets northeast Ohio to businesses and investors is able to make a stronger case


by WKSU's TIM RUDELL


Reporter
Tim Rudell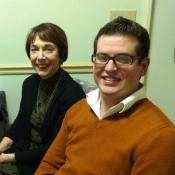 Jenny Febbo, Vice President of Marketing and Communications, and Jacob Duritsky, Director of Business Attraction, in a recording studio at the WKSU Akron newsroom
Courtesy of rudell
Download (WKSU Only)
In The Region:
Team NEO boosts northeast Ohio business. And it's one of the new contractors hired by the Kasich administration to help privatize the state's economic development work. Both jobs may be getting easier if the trends Team NEO says it is seeing continue. Vice President of Marketing Jenny Febbo and Business Attraction Director Jacob Duritzky talk with WKSU's Tim Rudell about the latest quarterly report, which shows the region's economic trends are growing in length and strength.
---
Related WKSU Stories

Northeast Ohio's JobsOhio program rolled out
Tuesday, August 30, 2011

Economic recovery coming in two years, or maybe five
Monday, November 21, 2011

New responsibilities and a Third Frontier grant for Team NEO
Monday, August 29, 2011

Northeast Ohio's economic recovery is sluggish, but continuing
Sunday, August 21, 2011

Jobs are still the key to economic health
Monday, May 16, 2011
---
---
---
Stories with Recent Comments