Loading...


Environment



Tuesday, February 14, 2012




Staying warm with a roll in the straw




First-of-its-kind house near downtown Akron is well insulated by straw bales


by WKSU's KABIR BHATIA


Reporter
Kabir Bhatia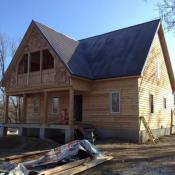 Patricia Maher's home at 181 N. Maple St. has numerous eco-friendly touches
Courtesy of K. Bhatia
Download (WKSU Only)
In The Region:
Building a new house means making decisions: floor plans, kitchen cabinets, bathroom fixtures and, for Patricia Maher, mud and straw. WKSU's Kabir Bhatia has this report on a first-of-its-kind house near downtown Akron.
From the outside, the house at 181 North Maple Street looks like an ornate, cedar-sided cottage. But a closer look reveals eco-friendly touches. A metal roof. A semi-enclosed balcony that doubles as a sleeping porch. Small, energy-efficient windows. And inside the walls… 350 bales of straw.

"Child: This is like a farm in here.
Patricia: Isn't it? That's exactly what I said when I walked in, 'It smells like a farm'.
Calvin: Just throw one right up in there."

Using straw as a building material – and as insulation – is a technique that's making a comeback as part of the green movement. When homeopath and East-Coast-transplant Patricia Maher decided to build her first home, she spent five years researching and planning.

"At this point in my life, am I gonna talk about being environmentally conscious, or am I gonna walk the walk? If we care about changing some of our practices, in regard to environmental sustainability, it starts with how we live our lives. What really has helped is that the City of Akron has a real commitment to redeveloping this neighborhood and to supporting green-building initiatives."

The most prominent of those initiatives, in Maher's home, is the insulation. It's a combination of layers of plastic, shredded newspaper and straw. And it's about 60 percent more efficient than conventional insulation.

"Straw bales are gonna be stacked along these walls. They're gonna be tied off and then we're gonna stuff a mixture of straw and clay in all the spaces and crevices and then we're gonna slap on a couple of thick coats of earth plaster made out of clay sand, straw and water."

According to the builder, Calvin Smith, the house is unusual even by straw-bale-house standards.

"We have a straw-bale house on a basement. Usually they're pole-building-type construction, or post and beam. Straw laid in between. Earth plaster on both sides. And that's the house. Joe come up with the concept, I thought it was wonderful. And we did it, and Pat paid for it. (laughs)"

The Joe he's referring to is Kent State architecture professor Joe Ferut, who designed the house. He says this is the first time traditional construction has been infused with straw: straw bales take the place of fiberglass insulation, and earth-plaster replaces dry wall.

"With the way we've designed this now is to basically have that standard exterior wood stud wall, and then we placed the bales up against it so the work is done on the inside. It's a much more controlled environment. It's sort of the best of both worlds."

The numbers haven't been crunched yet, but Ferut and Maher estimate a minute cost difference between this house, and an identical model with conventional construction. And Patricia's heating bills should be about three-hundred dollars… a year.

Land in the North Akron neighborhood is going for a dollar per square foot. That was low enough to entice the construction of a matched straw bale house next door… for Patricia's partner, Rebecca Johnson.

Anyone who wants to experience straw-bale-construction first-hand can visit the house this Saturday and Sunday from 8 to 4. There will be seminars about the project, and you can also help apply the earth plaster around the bales.

---
---
---
Stories with Recent Comments