Loading...


Economy and Business



Tuesday, February 14, 2012




Cleveland Red Cross blood drive workers strike




Strike over health benefits not expectedt to hurt blood supply


by WKSU's KEVIN NIEDERMIER


Reporter
Kevin Niedermier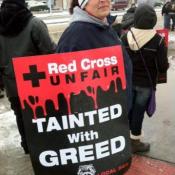 Cleveland Red Cross blood drive works are striking over health care benefits.
Courtesy of Kevin Niedermier
Download (WKSU Only)
In The Region:
About 200 Cleveland Red Cross workers went on strike today after contract negotiations stalled over health care costs. The workers, who set-up blood drives and draw the blood, have been working without a contract since last May. WKSU's Kevin Niedermier reports on the contract issue, and the impact the strike could have on the blood supply.
The strikers lined Euclid Avenue in front of the Cleveland Red Cross headquarters near downtown. The Teamsters union represents the workers. Al Mixon is president of Local 507. He says Red Cross officials refuse to accept the union's offer of a package that would ease rising healthcare costs.

Mixon: "With family coverage alone that's hidden in a network of 600 or 700 bucks a month, which is 3 or 4 times what the membership was paying before. Now, we offered our plan to them about 4 years ago which could have saved them one million dollars. What they've done is now nationally is grouped everybody under 1 umbrella. And that's what the issue is, they don't want to carve out our group, knowing that our plan is better, knowing that our plan doesn't cost them anymore money."

No new talks are scheduled. Cleveland Red Cross spokeswoman Christy Saboka says the blood supply is OK now. But she is concerned that the strike caused the cancellation of the region's largest scheduled blood drive where nearly 1000 pints are collected each year. She says the Cleveland Red Cross can get blood from other regions if the supply drops too low.
---
---
---
Stories with Recent Comments