Loading...


Economy and Business



Monday, February 20, 2012




Fracking industry to hire vets




Hiring event in Youngstown targets war veterans for jobs infracking related industries


by WKSU's JEFF ST. CLAIR


Reporter / Host
Jeff St. Clair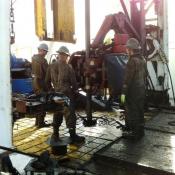 Workers in Carroll County tap into gas and oil in the Utica shale formation. Drilling companies say veterans have many of the skills needed in this demanding industry.
Courtesy of Tim Rudell
Download (WKSU Only)
In The Region:
A company that promotes shale-gas drilling in Ohio and Pennsylvania is holding a hiring event for veterans this week. ShaleDirectories.com President Joe Barone says jobs in the oil and gas drilling industry require many of the skills learned in the military. "Veterans are used to working in teams, they're used to outdoors - lot of them coming back from deployment - they're used to working long hours, they have good leadership skills."
Barone says eight companies will be looking to fill 300 jobs at the event Thursday at the Youngstown Air Reserve Station.
Supporters of shale drilling say the industry could employ anywhere from 20,000 to 200,000 people in Ohio over the next three years.
---
---
---
Stories with Recent Comments