Loading...


Ohio



Monday, February 27, 2012




One now confirmed dead; four others hospitalized in Chardon school shooting




Gunman in custody immediately after the shootings


by WKSU's M.L. SCHULTZE


and

AMANDA RABINOWITZ; KEVIN NIEDERMIER



Web Editor
M.L. Schultze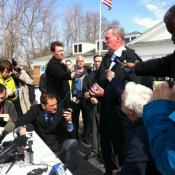 Chardon Police Chief Tim McKenna at noon press conference confirming one student is dead and the suspected gunman is in custody.
Courtesy of Kevin Niedermier
Download (WKSU Only)
In The Region:
UPDATE: 2:42 P.M. Statement from family of slain student through MetroHealth Medical Center: "Three student victims from the tragic shooting at Chardon High School this morning were brought to MetroHealth' Level One Trauma Center. One of the students, Daniel Parmertor, has passed away. His family made the following statement... "We are shocked by this senseless tragedy. Danny was a bright young boy who had a bright future ahead of him. The family is torn by this loss. We ask that you respect our privacy during this difficult time. " UPDATE: 12:09 P.M.: One of the five students injured in the shootings at Chardon High School has died. The boy was one of the three flown by helicopter to Metrohealth Medical Center. Two students were flown as well to Hillcrest Hospital, where the 18-year boy is in serious condition; a 17-year-old girl is in stable condition.

Five students remain at area hospitals following a shooting shortly after 7:30 this morning that began in the cafeteria of Chardon High School. Officals are not releasing the conditions of the students, three of whom were flown by helicopter to MetroHealth Medical Center. The other two are at Hillcrest. The identity of the gunman also has not been released, though he' believed to be a student at an alternative school who used a .22 caliber handgun. He may have been on the campus as part of a bus transfer. Chardon Police Chief Tim McKenna at noon press conference said a teacher chased the gunman out of the building.
"The EMS crews were brought in. As you can imagine, a perimeter was set up to ensure the suspect did not come back into school. Our K-9 unit was brought in, tracking was commenced and the individual was apprehended some distance from the school but had fled on foot."
Chardon is about 30 minutes east of Cleveland. The high school and middle school are clustered on a shared campus, and both were on lockdown immediately after the shooting. Parents crowded outside the schools to take their children home.
---
---
---
Stories with Recent Comments