Loading...


Ohio




Tuesday, March 6, 2012




A crowd waits for Santorum and poll results


Exit polls say the race is going to Romney, but less than 10 percent of precincts are reporting.

by WKSU's TIM RUDELL
This story is part of a special series.



Reporter
Tim Rudell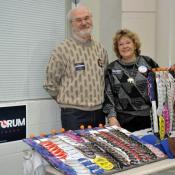 Cass and Barb Arble sell pins and other campaign gear for Rick Santorum while a crowd waits for the GOP presidential candidate at a watch party in Steubenville on Tuesday, March 06. The race between Santorum and Mitt Romney is still too close to call either way.
Courtesy of Laura Fong
Download (WKSU Only)
WKSU's Tim Rudell is down in Steubenville, where GOP presidential hopeful Rick Santorum is holding his Super Tuesday post- election event.
That's WKSU's Tim Rudell reporting from Steubenville, where former Pennsylvania Sen. Rick Santorum is expected to speak once the Ohio results are known.
---
---
---