Loading...



From WKYC.COM / TV 3
Get the latest school closings and delays


Funding for WKSU is made possible in part through support from the following businesses and organizations.
---
For more information on how your company or organization can support WKSU, download the WKSU Media Kit.

(WKSU Media Kit


)
---

Social Issues



Wednesday, March 7, 2012




Cleveland Catholic parishioners celebrate a reprieve




The diocese is not yet commenting on the Vatican's rare decision, but has warned that -- without the closings -- a shortage of priests, parishioners and money could cripple the entire mission of the Church.


by WKSU's TIM RUDELL


Reporter
Tim Rudell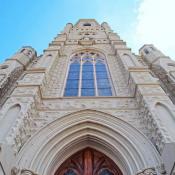 Historic St. Peter's in downtown Cleveland is among the churches fighting the bishop's order to close.
Courtesy of flickr
Download (WKSU Only)
In The Region:
Rome may be telling Cleveland to "hold it." A lawyer for parishioners trying to fight church closings in the Catholic Diocese of Cleveland says the Vatican is overriding the local Bishop in thirteen cases. WKSU's Tim Rudell talks with one of those parishioners.
---
---