Loading...


Economy and Business



Monday, March 19, 2012




Being within driving distance may make a big difference




Similar facilities on the Gulf coast have genereated supporting business for hundreds of miles


by WKSU's TIM RUDELL


Reporter
Tim Rudell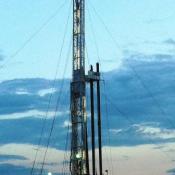 Around the clock drilling, like on this rig seen at twilight in Carroll County, brings up unrefined gas and petroleum. It is then "cracked," broken down in a process that yields more usable products. The facilities where this is done are often called crackers.
Courtesy of Rudell
Download (WKSU Only)
In The Region:
They say close only counts in horseshoes; but it may be O.K. in the case of giant chemical plants, too. Northeast Ohio just lost to western Pennsylvania to be the site of Shell Oil company's new multi-billion dollar "cracker." But, as WKSU's Tim Rudell reports, the massive chemical processing center for shale gas could still have a major impact on the region.
Making it usable
With "fracking" comes "cracking"--the process that turns the heavy molecules from gas and oil wells into butane, polypropylene and a host of chemicals used in everything from paint to auto parts.
PA is the pick
When Shell Oil said it would put a huge new "cracker" near the eastern shale gas fields, Ohio, West Virginia and Pennsylvania vied for it. A site near Pittsburg won.
Just spin? Maybe not
Ohio Gov. John Kaisch told reporters last week that even if Ohio didn't get it, as long as the cracker was nearby the state would benefit. Bob Weis, Chairman of the University of Akron Polymer Engineering Department says it likely will: "You need to supply them with materials, you need to supply them with even chemicals to do what they're doing—catalysts. You need to supply them with expertise. You know, they're going to be looking around at the intellectual base in the area…which in northeast Ohio is pretty strong."
Another brass ring
The other governor whose state lost out, West Virginia's Earl Ray Tomblin, told a Charleston paper there may be another company looking at the region for another cracker.
---
---
---
Stories with Recent Comments