Loading...


Arts and Entertainment



Monday, March 26, 2012




Funky Winkerbean coming to Kent State




Two local cartoonists are bringing their band of iconic characters to Kent State's new student center lounge




by WKSU's VALERIE BROWN




and

VOICED BY KABIR BHATIA



Reporter
Valerie Brown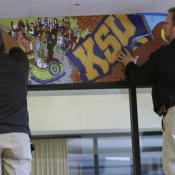 Chuck Ayers and Tom Batiuk designed this wall installation for a newly rennovated lounge at Kent State University. The Kent State alums incorporated iconic characters from their comic strips Crankshaft and Funky Winkerbean into student life on campus.
Courtesy of Valerie Brown
Download (WKSU Only)
In The Region:
Two local cartoonists are bringing their band of iconic characters to Kent State University. WKSU's Kabir Bhatia reports on the installation that opens to the public Tuesday.
Former classmates Chuck Ayers and Tom Batiuk graduated from Kent State more than forty years ago. The two have been collaborating on the comic strips "Funky Winkerbean" since 1972, and "Crankshaft" since 1987.

Now, they've created a mural-sized custom strip for the newly renovated Kent State student center lounge.

Ayers says he was inspired by his son, a freshman at Kent, and his own experiences as a student.

"I just remember it as being one of the best times of my life. This is that transition period that stays with everyone that's gone through college. You enter college as a kid; you leave as an adult."

Batiuk and Ayers previously created a similar installation at Ohio University. Kent State programming director Timeka Rashid discovered the piece while visiting the university. And when she had a space in the student center ready for an upgrade, she thought an alumni comic strip would be a source of campus pride.

"They said 'What do you want?' I said 'I want scenes of student life.' And they caught that, but they made it a story. And they brought it in from the beginning—the field trip—all the way to that graduation."

The comic strip wraps around the room and features Crankshaft, "The World's Greatest Band Director," and other familiar faces from the strips -- including a few characters who, in the mural, will be attending Kent State.

The university will officially unveil the wall installation during a reception on Tuesday, March 27th between 12 and 2 pm in "The Nest" lounge on the second floor of the Kent State University student center.
---
---
---
Stories with Recent Comments