Loading...


Sports



Friday, April 27, 2012




Browns boost offense in NFL Draft




Richardson, Weeden expected to make large impact




Story by

JASEN SOKOL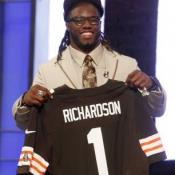 Trent Richardson holds up a Browns jersey after being selected with the third overall pick in the NFL Draft.
Courtesy of Jason DeCrow, Associated Press
Download (WKSU Only)
The Cleveland Browns could use help at almost every position. Last night, they chose to strengthen their offense with their two first round picks in the NFL Draft.

The Browns traded up to the third pick to take Alabama running back Trent Richardson. But they raised eyebrows by taking Oklahoma State quarterback Brandon Weeden.
A potential fan favorite

Richardson helped lead Alabama to a national championship last year and was one of the most highly-touted players in this year's draft. WKSU sports commentator Terry Pluto likes the pick.

"He probably is the most intriguing player with the most potential to be a fan favorite taken by the Browns since they came back in 1999," he said.

The Browns gave up picks in the fourth, fifth, and seventh rounds to move from the fourth overall pick to the third. Pluto said the picks were a small price to pay for such a good player.

Another new quarterback

Weeden is expected to replace Colt McCoy as the Browns' starting quarterback. Pluto says the 28 year old is better suited to play on the lakefront

"(The Browns) really believe that Weeden is both physically stronger and bigger in terms of height and size, and that his arm is stronger."

Pluto expected Weeden to be taken in the second round. The Browns ranked Weeden 13th on its list of best players in the draft.

More work to do

The draft continues today with the second and third rounds. Pluto believes it is still easier to list what the Browns do not need rather than what they do. But he said the Browns are looking for a wide receiver to complement Weeden as well as a defensive back and a right tackle.

The fourth through seventh rounds will conclude the draft tomorrow.
---
---
Stories with Recent Comments