Loading...


Courts and Crime



Wednesday, May 2, 2012




Occupy Cleveland "surprised" by news of bomb plot by members




A spokesman says the suspects didn't seem unusual




by WKSU's VALERIE BROWN



Reporter
Valerie Brown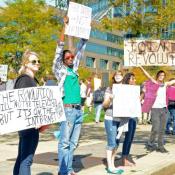 A crowd of people gathered by the Free Stamp in downtown Cleveland to protest corporate greed and corruption on October 06, 2011.
Courtesy of Laura Fong
Download (WKSU Only)
All five of the self-proclaimed anarchists who are accused of conspiring to blow up a bridge over the Cuyahoga Valley National Park attended protest events organized by Occupy Cleveland. But many members of the Occupy group were surprised by this week's news. Spokesman Joseph Zitt says he met most of the men who were arrested, but he says nothing seemed unusual.
Zitt says many members of Occupy Cleveland have differing beliefs, but that a core message has always been non-violent protest.
In an affidavit, an FBI informant says that Douglas Wright and several others were "displeased" that protesters insisted on nonviolence at an October event.
FBI agents investigated the five suspects for seven months and arrested them Monday night after they allegedly tried to detonate explosives at the base of the Route 82 bridge. Hearings in the case begin next week.
---
---
---
Stories with Recent Comments