Loading...


Arts and Entertainment



Wednesday, May 9, 2012




At the Movies with Ignatiy Vishnevetsky




25-year-old critic co-hosted Roger Ebert's final series


by WKSU's MARK URYCKI


Reporter
Mark Urycki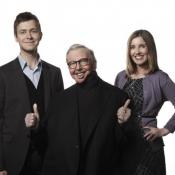 Ignatiy Vishnevetsky, Roger Ebert, and Christy Lemire of Ebert Presents At the Movies. The PBS show is on hiatus seeking a sponsor.
Download (WKSU Only)
In The Region:
Film critic Roger Ebert passed away today at age 70... Mark Urycki interviewed Ignatiy Vishnevetsky, co-host of Ebert's final show, "Roger Ebert Presents At the Movies."
When movie critic Roger Ebert revived the TV show "At the Movies" that he started with Gene Siskel, he had the choice of dozens of critics to put on the show. The one he chose was a 24-year old Chicago man who had never actually worked as a film critic. Tonight (Wed) the now-25-year old cinephile will be speaking at the Akron Main library about the future of movies. WKSU's Mark Urycki spoke with him and filed this report.

Ignatiy Vishnavetsky was born in Russia but went to high school in Wisconsin. Right out of high school he moved to Chicago to join other serious young film buffs and now writes for the Chicago Reader and Mubi.com. His favorite films include obscure silent movies and those by Russian Andrei Tarkovsky or Japan's Yasujiro Ozu. But they also include the Bruce Willis action flick "Die Hard with a Vengeance" and the infamous 1980 financial disaster "Heaven's Gate." Vishevetsky says his favorite movie as a ten year old boy was Fritz Lang's silent "Metropolis."
---
---
---
Stories with Recent Comments