Loading...


Environment



Monday, May 21, 2012




Chemical spill in Tuscarawas shuts down I-77


Third incident in seven months at Dover Chemical



by WKSU's GRANT ENGLE


Reporter
Grant Engle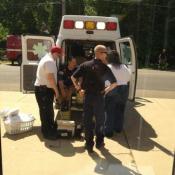 The main concern for Dover EMS was the possibility of a fire from the spill
Courtesy of Peterman Plumbing and Heating
Download (WKSU Only)
In The Region:
A chemical spill at a plant in Tuscarawas County Monday afternoon shut down a portion of I-77 for four hours. The Dover Fire Department said the spill at Dover Chemical was caused by an overheated reactor that produced a visible cloud of vapor. The plant is located in a residential area along I-77. Dipropylene glycol was one of the reactants in the reactor. It has many uses, including as a solvent, and may be added to perfumes and skin and hair products. Nearby residents were told to stay inside with their windows closed and an elementary school was evacuated. Parent Krystal Stingel said the two hours from when she first heard about the spill to when she was contacted by the school were nerve-racking.
"In that two hours I was literally sitting here panicked the entire time about her being so close to the spill. And I was trying to call the school myself, but it was so busy because I assume other parents were trying to call."



Resident Doug Peterman, whose plumbing company is a few blocks from the plant, went to the second floor of his office to see the cloud.



Other options:

Windows Media
/

MP3 Download
(0:23)
"When you looked up you could see actually some chemical, or some kind of, to be honest with you, it looked like a bonfire. You couldn't see the source, but you could see it going up in the air. And you could really tell that there was a chemical floating above that area above the chemical plant. It was like a thick, a thick fog. It didn't look natural."

Two truck drivers in the area were treated for respiratory irritation.

The spill is the third incident at the plant in seven months that required emergency crews. The most recent accident, in February, sent a worker to the hospital.
---
---
---
Stories with Recent Comments