Loading...


People



Sunday, May 27, 2012




Memorial Day at Veterans' Memorial Park




Clinton, Ohio monument remembers fallen Ohioans


by WKSU's KABIR BHATIA


Reporter
Kabir Bhatia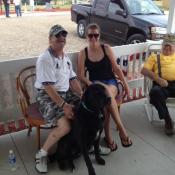 John Carroll and Mandi Modrick (along with Dagger) are among the regulars at Veteran's Memorial Park in Clinton, honoring fallen heroes
Courtesy of K. Bhatia
Download (WKSU Only)
In The Region:
The centerpiece of Ohio Veterans' Memorial Park in Clinton is a black granite wall inscribed with the names of the Ohioans killed in the Vietnam War. The slide of the U.S. into that war began with CIA advisors as early as 1955. But the U.S. involvement accelerated, and became formal in 1962. And WKSU's Kabir Bhatia reports that tonight, 50 years later, the park is hosting a candlelight vigil in honor of Memorial Day.
The 7-foot tall, 125-foot long wall is an imposing centerpiece in a serene two-acre field. A Gold Star Mother statue watches over the names of the fallen Vietnam soldiers. And at night, soft white lighting makes the names appear to float in space. On the reverse, displays remember Ohioans lost in each conflict going back to the War of 1812.

A reflecting pond in tribute to POWs is off to one side, and the whole area is surrounded by black granite benches honoring troops, battalions, and even animals who served in the conflicts.

Rob Seelbach from Barberton is one of the volunteers relaxing and reflecting on the white veranda overlooking the monument.

"I was shocked and amazed when I first came down last year. There's 3,018 killed in Vietnam… one woman killed in Vietnam and 76 MIA's, and that's why I sit here every day. To honor them. I've had people break down and cry… and say that it's better than the wall in D.C. You CAN actually touch the wall, and that's what's important to some people, to be able to touch the wall."

Plans for the wall began a decade ago and, after numerous stops and starts, and a lot of fundraising from private citizens and corporate sponsors, the park opened in 2009. John Carroll of Portage Lakes served in Vietnam in the late 1960s. Seeing a Cobra helicopter displayed behind the wall reminds him of one thing.

"All the times they came and supported us in combat. That's why we are the nation we are, because of the quality of equipment and troops we have. Vietnam was a little unfortunate the turn out there but, we learned. At least I hope we learned. That would be my heart's desire that we learned something there."

Sitting across from Carroll most days is the memorial park board's president, Ray Arnold, who served in Vietnam at about the same time. He's happy soldiers returning today from wars in Iraq and Afghanistan are getting a better reception than those in the 1960s and 1970s. But he visits every day to honor all veterans.

"Back in 9-11, the patriotism was at an all-time high and it seemed like, three months later, it went down. But in all reality, that's America. It takes something bad to get 'em juiced up. Then after a while, they kind of go on living their lives and everything. Whereas down here, all of us attempt to keep things going for those boys on the wall. They're all important to us."

Arnold quickly changes the subject as Ken Noon arrives. He carved most of the Gold Star Mother statue watching over the Vietnam side of the wall. He says the wall's inscription -- "Lest We Forget" -- speaks for itself.

"Yesterday we had Northwest High School here. Each year, they come out to help landscape the park, and the senior kids are amazed at what they see here. It's for our future, [to] let people know what these men done for our country. Each town has a memorial, but when people see all these names together, it makes a bigger impact. Let's people know that, for our freedom, a lot of men and women lost their lives so we can our hamburgers on Memorial Day."

Noon is planning a Blue Star Mother statue, which watches over living soldiers, and is optimistic that the park will get a "Huey" helicopter for display before August 4. That's the day the Ohio Veterans' Memorial Park will inscribe 291 names of men and women killed in Iraq and Afghanistan. Despite the solemnity of that toll, the event is meant to be a celebration, and will include a car show, concert, Civil War re-enactment and 5 & 10k runs.
---
---
---
Stories with Recent Comments