Loading...





Wednesday, May 30, 2012




Kent State baseball finds quiet success; Cavs hope to find more luck




Terry Pluto talks about Kent State's fourth trip to the NCAA tournament, and the Cavs' odds in the NBA lottery


by WKSU's AMANDA RABINOWITZ


Morning Edition Host
Amanda Rabinowitz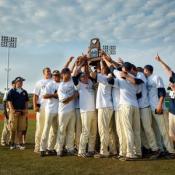 KSU won its fourth straight MAC title and plays in the NCAA Championship Regionals for the fourth year in a row and 12th time in history
Courtesy of Kent State University
Download (WKSU Only)
The Kent State University baseball team has quietly made its way into the NCAA tournament four years in row. WKSU commentator Terry Pluto talks to Amanda Rabinowitz about the secrets to the team's success, and talks about the Cavs' odds of winning tonight's NBA lottery.
Kent State baseball
Kent State won the MAC Championship this past weekend and is ranked No. 25 in the nation according to Collegiate Baseball Newspaper. The Golden Flashes (41-17) will take on regional No. 2 seed Kentucky (43-16) – ranked 13th in the country - Friday (June 1) in Gary, Indiana. The NCAA Championship Regionals are a double-elimination event. The winner of Kent State-Kentucky will play the winner of Purdue-Valparaiso while the losers will square off in an elimination game Saturday (June 2.)

NBA lottery
The Cavaliers ended the season with a record of 21-45, tied with the New Orleans Hornets for the third worst record in the league.The Cavs will have the third most chances in the NBA draft lottery, giving them a 14 percent shot at the top pick in this year's draft.

Each team is given a number of combinations out of the 1000 total. The team with the best odds (Charlotte) has 250 combinations. Cleveland has 138 combinations. The team with the worst odds (Houston) has 5 combinations.

Last year, the Cavs "won" the lottery with less than a 4 percent chance of getting the top pick. They selected 2012 Rookie of the Year Kyrie Irving. This year's top pick is Kentucky's Anthony Davis.



---
---
---