Loading...


Sports



Tuesday, June 5, 2012




Kent State readies for the Ducks




Underdog baseball team needs to win this weekend to make it to the College World Series




by WKSU's JASEN SOKOL




and

KELLI FITZPATRICK



Reporter
Jasen Sokol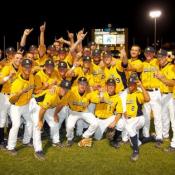 Kent State's baseball team has made it further in college tournament play than at any time in its history.
Download (WKSU Only)
In The Region:
The Kent State baseball team is finishing up practice today, then heading to Oregon to take on the Ducks in a Super Regional tournament whose winner will go onto the College World Series. It's a first for a Kent team. And the underdog Flashes got there by extending the longest winning streak in the country to 20 games with wins over Purdue and Kentucky in last weekend's regionals. Head coach Scott Stricklin says his team won't be fazed by the cross-country trip.
"We played at New Mexico State earlier this year, we played at Pepperdine and Fresno State earlier this year. So our kids have already been across the country twice and they're battle-tested and we'll be ready to go."
Game 1 of the Super Regional is set for Saturday night. The team that wins two out of three games in that tournament will go onto World Series in Omaha, Nebraska.
---
---
---
Stories with Recent Comments