Loading...


Sports



Wednesday, June 6, 2012




Terry Pluto likes Kent State's odds in Oregon




Pluto says the Oregon Ducks are not considered a baseball powerhouse foe in the Super Regionals this weekend


by WKSU's AMANDA RABINOWITZ


Morning Edition Host
Amanda Rabinowitz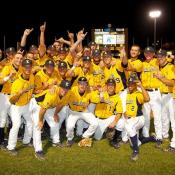 Kent State University's baseball team celebrates after its first ever Regional title
Courtesy of Kent State University
Download (WKSU Only)
The Kent State University baseball team is one step away from the College World Series for the first time in history. The Golden Flashes outlasted Kentucky twice – once in 21 innings -- and then beat top-seeded Purdue last weekend to win their Regional. WKSU commentator Terry Pluto talks about Kent State's 'Cinderella' story...and takes a look at why few people care about this week's Major League Baseball draft.
---
---
---