Loading...


Sports



Thursday, June 7, 2012




Local track and field coach realizes Olympic dream




Jack Hazen brings 45 years of coaching experience to U.S. Olympic distance running team




by WKSU's GRANT ENGLE


Reporter
Grant Engle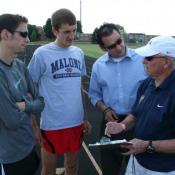 Jack Hazen (far right) was named to the U.S. Olympic distance running team's coaching staff last year. His career at Malone University in Canton includes four National Championships and six Coach of the Year awards.
Courtesy of Grant Engle
Download (WKSU Only)
In The Region:
Ohio is known for producing renowned football coaches. Woody Hayes, Jim Tressel and Urban Meyer have all reached the pinnacle of the sport.

But, tucked away at a small Christian university in Canton, is a track and field coach whose 45-year career is not only unmatched, but his legend continues to grow. WKSU's Grant Engle reports.
Jack Hazen, the 72-year old head coach of the Malone University cross-country and track and field teams, has had one of the most prolific careers in the history of collegiate running. Still, he was surprised when he was named to the coaching staff of the U.S. Olympic distance running team in London.

"Well, it's always been a thought, not really a goal because I never dreamed that someone from a small university like Malone would have a chance to do that. I've never worked with elite distance runners. We've had a ploe-vaulter that was the gold-medalist in Athens, but it was a bit of a surprise when I got asked to do it."

Malone competes in the National Association of Intercollegiate Athletics, the NAIA, a division of 290 smaller universities across North America.

Hazen's teams at Malone have won four NAIA national championships; he has coached All-Americans and led the U.S. national team at the world championships and Pan-American games. But, Hazen describes the Olympic coaching job as "the big one."

After going over his list of accomplishments, Hazen was quick to credit his athletes at the 3,000-student Malone campus.

"As in any coaching situation in any sport, you have to have the athletes. So, my biggest challenege from day one was recruiting people to Malone, a small school. Ad, we've been lucky to get some of those athletes. and so, I look good when they come and develop a little bit."

Most of the 20 runners Hazen will be working with at the Olympics are professionals with their own private coaches. Hazen says his main focus is to keep the athletes on their coaches' plans.

However, private coaches usually don't have the credentials to stay with their athletes during the games. So Hazen will be spending the crucial final hours with the athletes before they compete in the biggest race of their lives.

Hazen's assistant coach at Malone, Matthew Renecker, says the six-time NAIA Coach of the Year will be an invaluable asset for the U.S. national team.

"There's not going to be a personality that is new to him. There's not going to be a scenario or a weather condition that he hasn't tested himself and been through. So, when an athlete comes up and needs something he knows precisely where to go to get it. If a strategy needs to be implememented he's tried it dozens of times already."

Distance running is traditionally dominated by countries like Kenya and Ethiopia, so the U.S. team is facing a difficult challenge. But, Hazen remains confident that the runners he's working with can play a vital role to USA Track and Field's success at the games.

"I'm just looking forward to having some of our athletes make the podium. Distance in America has not contributed as much as some of the other events.We have the best track and field team in the world, and I'd just like to see some of my distance runners get on the podium and contribute to the medal count"

Despite traveling the world as a coach and building a strong reputation in the running community, Hazen says he has been content at a small college, and plans to stay.

"You might say I'm really loyal, or I'm really stupid. I don't know which. But, Malone is a Christian university, and my heart has really been here through all these years. I see people develop, not just in their athletic ability, but in other ways that are probably more important to their mature life and adult life later on. So, I think that's the thing that's kept me here all these years."

Hazen will resume his coaching duties at Malone after the summer games. The 72-year-old coach has not given any indication that he plans to retire in the near future.


The opening ceremony for the London 2012 Olympic Games is July 27.
---
---
---
Stories with Recent Comments