El Anatsui's metal tapestry, "Dzesi II," 10 feet tall and 16 feet wide, covers an entire wall of the Akron Art Museum – It arrived as soon as there was room for it with the building's expansion five years ago, and museum staff says it's been popular with visitors ever since.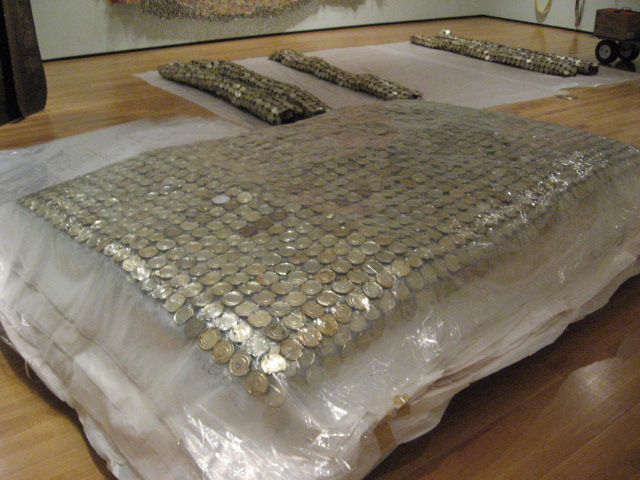 Contemporary art tends to be large, but the Nigerian artist El Anatsui's work is beyond huge. The 12 metal sculptures and wall hangings in the exhibition titled "Gravity and Grace" overflow the galleries into the lobby.
Beyond its enormity, the way the art is made and displayed makes it unique.
El Anatsui obtains hundreds of thousands of discarded milk- tin lids -- as well as whiskey, gin, and rum bottle screw-tops -- from mounds of detritus easily found in West Africa, where recycling is rare.
He directs assistants to crush, crumple, twist and flatten the tiny bits of metal and then thread them together into shimmering, highly textured and richly colored sheets.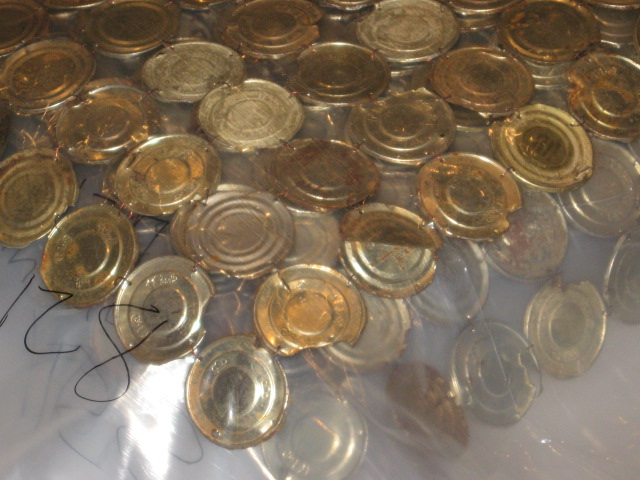 Anatsui then gives museum staff artistic license to configure the work by bending, twisting, draping, and shaping the flat sheets into forms.
"We sort of established how to handle the work in 2006 when we first purchased his art work," says Collections Manager Arnie Tunstall.
"The big metal pieces are like a big doily," he adds. "They're also relatively fragile in that they are sewn together by little bits of copper wire. So care has to be taken, very delicate care. … Also, we have to protect ourselves because we are dealing with rusted metal and sharp edges so we're wearing layers of gloves to keep ourselves from being cut."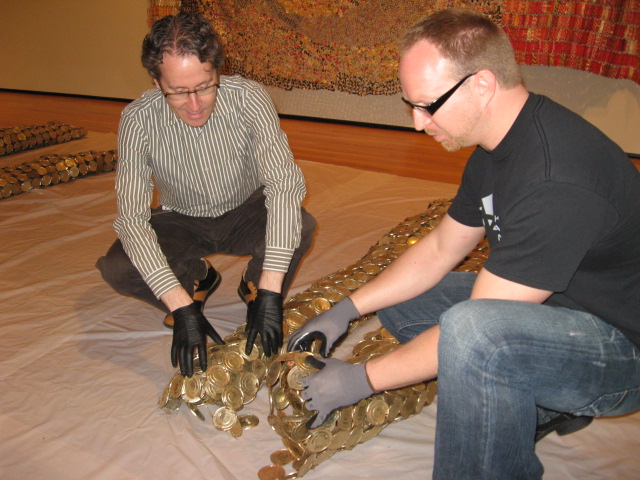 The installation process is collaborative as was the making of the art itself, but Akron's curator, Ellen Rudolph, has the final say.
The art arrived at the museum folded up like blankets, and she says it's almost like working with fabric.
"They have the quality of a textile in that they are sort of formless. They can be scrunched- up, expanded, contracted, folded-up," Rudolph says.
El Anatsui is a big man in his mid-60s, modest and soft-spoken. He's been an art professor for three decades.
He says he uses discarded materials because they are filled with meaning.
"The materials are liquor bottle caps, whiskey, brandy, gin and the rest. The Europeans when they first came to Africa, liquor was one of the items that they brought and then traded them initially for other goods like gold and the rest, but eventually it was traded for people as well. "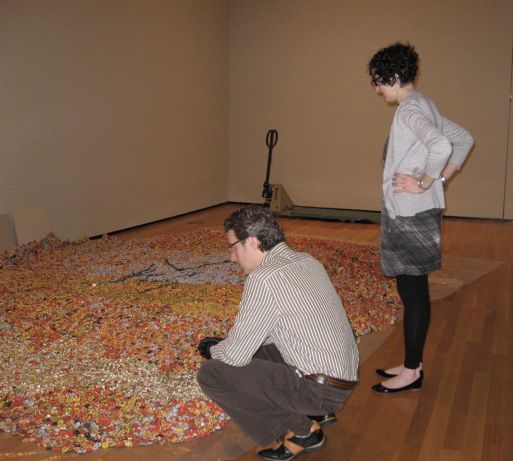 For curator Rudolph, Anatsui's choice of materials is in keeping with the artist's cultural context and reflects a legacy of colonialism, rampant consumerism and waste.
"He often talks about liquor as at the very beginning of contact between Europe and Africa," Rudolph says, "and it became a commodity that has a very complex social history. "
As for the milk tins, "there's also an interesting social and political dynamic. Milk is imported from Europe. But also, in Nigeria, there isn't a really well-structured recycling system, so you've got these recycling markets where you can find anything and everything. But it's a problem and these kind of accumulations that he creates sort of reflect that: Where do we go with all of this material that is accumulating in the world and how does it reflect our patterns of consumption."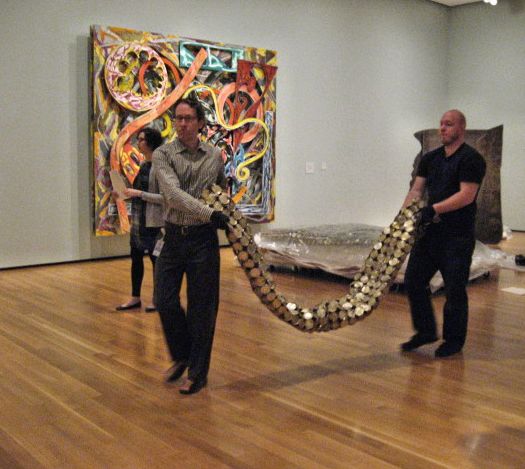 Rudolph says El Anatsui's collaborative method -- letting assistants do the hands-on work -- is born of necessity.
"No one person could piece together thousands and thousands of bottle caps and make more than one piece a year probably," Rudolph says.
But she says his method also shows a rare humility.
"He's a very quiet person who likes to keep to himself. Often you think of artists putting so much ego - even the kind of stereotype of the Jackson Pollack-type persona that pours so much of himself into the making of the work. And here you have an artist who actually outsources the manual labor part."
It's El Anatsui's outsourcing of the actual installation, though, that inspires the Akron Art Museum's chief preparator, Joe Walton.
"We're able to add different components to it, lengthen pieces of it, actually space it out in the gallery. So it's actually going to be different than anywhere it's ever been installed before," Walton says.
He had to construct special rigging to hoist the clangy, jangly, metal blankets. One of the works, entitled "Glee," arrived in separate pieces.
"Some of the pieces we're dealing with are 12 feet high by 36 feet long so there's special pulley-system rigging hardware that we're going to use to get them on the wall safely. It's challenging, but this is probably one of the funnest installs we've had to work on."
Curator Rudolph agrees.
"It's really quite a gift that El Anatsui gives to the people who install his exhibitions because it's really an opportunity to exercise your creative mind and your vision," she says.
She says the works that are a permanent part of Akron's exhibits have become "a favorite among so many of our visitors, and work that we're particularly proud of owning because we purchased it at a time when so many other museums were still looking at this artist as an African artist whose work belonged in the context of African collections. We were looking at his work as something to add to the larger contemporary art dialogue."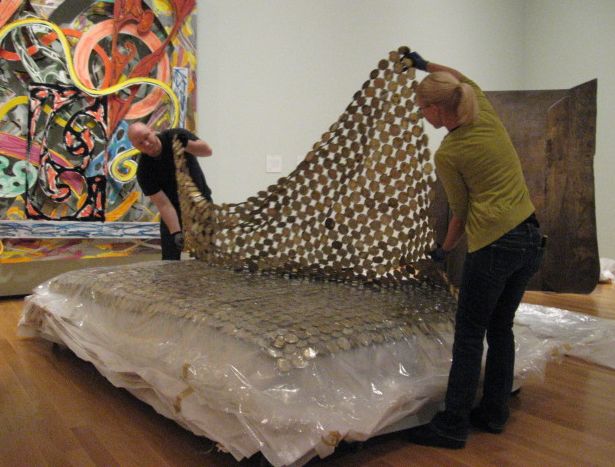 She acknowledges, though, that she's a little nervous.
"It's a little intimidating to think about the artist coming and seeing what we've done, how we've interpreted his work, but it's also a really wonderful process."
Most of the metal sculptures and tapestries in the Akron Art Museum's exhibition "Gravity and Grace: Monumental Works by El Anatsui have never before been seen in America. After the exhibition closes in Akron in early October, it will move to museums from coast to coast through 2014.