Loading...


Ohio



Monday, June 11, 2012




Kasich says lawmakers, drillers are coming around on severance tax hike




Ohio governor vows the drilling tax will help cut income taxes




Story by

MARK URYCKI AND M.L. SCHULTZE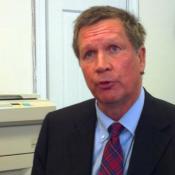 Gov. John Kasich says he's giving lawmakers the time and the arguments they need to fee comfortable with a hike in the drilling tax.
Download (WKSU Only)
Gov. John Kasich says he will get his way on an increase in taxes on the oil and gas industry and on a cut in Ohio income taxes. Kasich was in Akron today to sign a bill establishing new regulations on the oil and gas drilling industry. What is not part of the new law is a hike in what's called a "severance tax" that drillers pay on each barrel of oil. Kasich proposed a hike – with a corresponding income tax cut – in a 3,000-plus page budget bill earlier this spring. His fellow GOP lawmakers stripped it out. But he vows it will be back.
"The Legislature now, they want to spend … more time looking at how it compares to other states. I've met with a number companies, they're coming our way as well, and it will get done. … I've pressed them pretty hard on this; they've asked me if they could have some space on this and they're my colleagues and we will get there. It's really just a matter of time and it's a matter of them being able to be comfortable with this."
Oil and gas companies have so far fought the tax hike, saying it will stifle a burgeoning industry in Ohio.
---
---
Stories with Recent Comments