Loading...


Environment



Tuesday, June 12, 2012




Seneca Lake gets temporary reprieve




Leatra Harper mobilizing citizens to convince Muskingum Watershed Conservancy District not to sell water for fracking


by WKSU's KABIR BHATIA


Reporter
Kabir Bhatia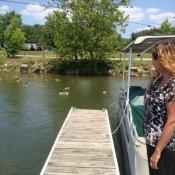 Leatra Harper plans to work with anti-fracking groups, in between visits with these baby ducks
Courtesy of K. Bhatia
Download (WKSU Only)
In The Region:
The Muskingum Watershed Conservancy District in eastern Ohio surprised many last week when it halted sales of water to oil and gas drilling companies. The district says it wants time to evaluate the environmental impact and gather public comment. WKSU's Kabir Bhatia reports on a Senecaville woman who plans to do much more than comment.
"I didn't know this was Ohio. This was just great."
Leatra Harper has been a frequent visitor to Seneca Lake for almost a decade. Boats dot the sparkling water on the man-made lake off of I-70, between Columbus and Wheeling. It's ringed with camp sites, vacation bungalows and a small marina. The Harpers like it so much, they moved here from Toledo and had planned to retire here.

"Anybody that knows me, knows that I'm a water person. We thrive on it. We feel very connected to it. I just feel like it's alive. I feel like every drop of water is a part of us."

But in recent weeks, the Harpers told their contractor to stop improvements to their small cottage. That followed the news that the Muskingum Watershed would be selling water from nearby Clendening Lake to Gulfport Energy for a process of oil and gas drilling called fracking. And that made them re-think whether this was the place to spend the rest of their lives.

"What about the value of the recreation here? I really think the MWCD really needs to look at that more closely. They're talking about the need to serve the industry. What about THIS industry. This is not something you can just create."

Upside of fracking
Fracking mixes up to 5 million gallons of water with small amounts of chemicals. The fracwater breaks up shale deep underground to release natural gas and oil.
A report from the Ohio Shale Coalition earlier this year projected nearly $5 billion in investment from the gas and oil industry by 2014, along with 65,000 jobs. The report, put together by scientists and economists at Cleveland State and Ohio State, also projects almost a doubling of growth in the state's gross product.

Water stays underground
But Leatra's husband, Steve, is more concerned about the water being pumped underground. He spent his career working in metals and chemical engineering, and says once the water is down there, it's down there for good.
"As I understand it, with these injection wells, that's the reason they take the fracwater, and just deposit it in the depths of the earth. So, to me, it's not recoverable. And that's very unusual for an industry to be able to have that as an option, as opposed to cleaning the water as other industries have to. The steel operation I was with in Chicago, the water we extracted out of the Calumet River had to be put back not only AS clean, but the same temperature as at extraction… we had to maintain the environment."
Some companies, like Devon Energy in Texas, are working on complex methods to purify fracking wastewater. If it works properly, it goes in looking like sludge, travels through filters and evaporators and distillers, and comes out looking like tap water. And the company can then use that same water for fracking again instead of buying more.

First water sale opened floodgates
The Muskingum district is the largest in Ohio, encompassing bodies of water that make up one-fifth of the entire state -- excluding Lake Erie. It announced back in April that it was selling as much as 11 million gallons of water from Clendening to Gulfport.
That original deal ends in the next few days, and watershed spokesman Darrin Lautenschleger says it involved less than one percent of the lake's water.
But in Gulfport's wake, a dozen other companies asked for water from Seneca and other lakes, and that's the reason the district wants to revise its water-sale policy.
"It's the right time to kind of slow the process down, make sure that we have all of the available and necessary information to make informed and effective decisions. And allow the public to be part of that process, as with all of our operations, so they can get a full grasp of what information's available, what the concerns are. [It will] allow us to interact with the public and environmental groups on what their concerns are. Then develop the proper policies, and changes in policies, that may be needed."

Pending study could provide answers
Both the Muskingum Water Conservancy District and Leatra Harper's group, the Southeast Ohio Alliance to Save Our Water, are eagerly awaiting a study from the U.S. Geological Survey of the impact of removing water from Muskingum's reservoirs.
The survey is due later this year, and in the meantime, the Harpers are contacting the Ohio Department of Natural Resources and other state and federal agencies to get answers about fracking's environmental impact.They're also reaching out to anti-fracking groups in Kentucky, Illinois, Michigan, Indiana and Pennsylvania.
---
---
---
Stories with Recent Comments