Loading...


Arts and Entertainment




Monday, June 18, 2012




Great success for the Cleveland Orchestra Youth Orchestra in the start of its first international tour




Dvorak's 8th Symphony at Prague's Dvorak Hall drew an audience of 700 and the conductor was called back for many bows.


by WKSU's VIVIAN GOODMAN
This story is part of a special series.



Reporter
Vivian Goodman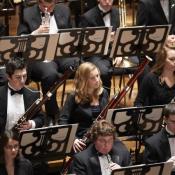 This is the first international tour in the ensemble's 26-year history.
Courtesy of Roger Mastroianni
Download (WKSU Only)
In The Region:
Tonight, at a 13th century Gothic church in the heart of Vienna, the Cleveland Orchestra Youth Orchestra has a hard act to follow: namely it's own triumph in Prague over the weekend in the opening concert of its tour. WKSU's Vivian Goodman reports from Vienna that the ensemble and its conductor are still bathing in the glow of standing ovations, and savoring the memory of a different kind of treat, a dinner cruise.
---
Support for COYO 2012 provided by:


---
---
---