Loading...


Environment



Tuesday, June 19, 2012




FirstEnergy plans new power line across Northeast Ohio




High-voltage line designed to fill void left by closing of power plants




by WKSU's JASEN SOKOL



Reporter
Jasen Sokol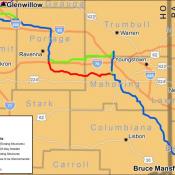 This map shows the preferred and alternate routes for the new high-voltage power line
Courtesy of FirstEnergy
Download (WKSU Only)
FirstEnergy is planning a new high-voltage power line that will cut across Northeast Ohio from Cleveland to western Pennsylvania. The company will hold public meetings across the region this week to discuss the 184 million dollar project. It's expected to increase the amount of electricity that can pass through the grid in Northeast Ohio and help fill the void created by the closing of several coal-fired power plants that won't be able to meet the air pollution standards that take effect in 2015. FirstEnergy will need to rebuild some towers in Mahoning, Trumbull, Portage, and Summit Counties. Spokesman Mark Durbin says FirstEnergy had to do its homework before settling on preferred and alternate routes for the line.
He says those impacts include everything from cutting trees to avoiding Native American burial grounds
FirstEnergy will hold three public meetings in the region this week to discuss the project:
Tuesday, 6:00 p.m. - 8:00 p.m., Mahoning County Career and Technical Center, 7300 North Palmyra Rd., Canfield
Wednesday, 6:00 p.m. - 8:00 p.m., Maplewood Career Center, 7075 State Route 88, Ravenna
Thursday, 6:00 p.m. - 8:00 p.m., Nordonia High School cafeteria, 8006 S. Bedford Rd., Macedonia
---
---
---
Stories with Recent Comments