Loading...



From WKYC.COM / TV 3
Get the latest school closings and delays


Funding for WKSU is made possible in part through support from the following businesses and organizations.
---
For more information on how your company or organization can support WKSU, download the WKSU Media Kit.

(WKSU Media Kit


)
---

Arts and Entertainment




Wednesday, June 20, 2012




COYO visits Mozart's birthplace




Tonight, it wraps up its tour of Europe in Salzburg, Austria


by WKSU's VIVIAN GOODMAN
This story is part of a special series.



Reporter
Vivian Goodman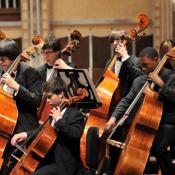 The bass section of the Cleveland Orchestra's Youth Orchestra.
Courtesy of Mark Horning
Download (WKSU Only)
In The Region:
Today is the final day of the Cleveland Orchestra Youth Orchestra's European tour. It's the first international trip in the ensemble's 26-year history and it's met high expectations both in audience response and its effect on the young musicians. WKSU's Vivian Goodman has been following the tour:
WKSU's Vivian Goodman has accompanied Cleveland's Youth Orchestra on its first European tour.
After tonight's concert at the Mozarteum, the young players plan a private dinner at one of the many elegant restaurants in Salzburg. This one has a spectacular views of the hills that 'come alive with the sound of music.'
---
Support for COYO 2012 provided by:


---
---
---