Loading...



From WKYC.COM / TV 3
Get the latest school closings and delays


Funding for WKSU is made possible in part through support from the following businesses and organizations.
---
For more information on how your company or organization can support WKSU, download the WKSU Media Kit.

(WKSU Media Kit


)
---

Environment



Wednesday, June 20, 2012




Chairman of the NRC to visit troubled Ohio nuclear reactor




Perry plant's performance problems spurred the visit




Story by

OZIE IKUENOBE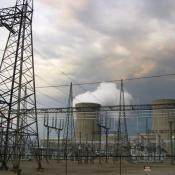 The Perry nuclear power plant is one of two commercial plants in Ohio operated by First Energy. The company hopes to get the Nuclear Regulatory Commission's OK to extend their life for another 20 years.
Courtesy of TIM RUDELL
Download (WKSU Only)
In The Region:
The chairman of the Nuclear Regulatory Commission is coming Northeast Ohio Friday to tour of the Perry nuclear power plan. Viktoria Mitlyng, a spokeswoman for the regulatory commission, says the Perry Nuclear Generating Station is having performance problems, which prompted Gregory Jaczko's visit.
"The chairman, for example, has visited the power phase plant in Michigan a couple of weeks ago, which is in the same performance column. So he visits the plants and he talks to the staff and the resident inspectors to basically be there in person and try to better understand the issues."
Jaczko will meet with reporters after his tour.
The Nuclear Regulatory Commission downgraded Perry's safety rating this spring, and ordered its operator, Akron-based First Energy, to come up with a plan to correct problems with procedures and training. The company says it has done so.
Page Options

Print this page

E-Mail this page / Send mp3

Share on Facebook
---
---
Stories with Recent Comments