Loading...


Ohio



Friday, June 22, 2012




Head of U.S. Nuclear Regulatory Commission tours troubled Ohio plant




Jaczko Says FirstEnergy is addressing problems


by WKSU's KEVIN NIEDERMIER


Reporter
Kevin Niedermier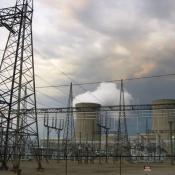 The Perry plant is on the NRC's watch list. It's one of two commercial nuclear plants in Ohio, both run by First Energy.
Courtesy of TIM RUDELL
Download (WKSU Only)
In The Region:
The chairman of the Nuclear Regulatory Commission says human performance at Northeast Ohio's Perry nuclear power plant is improving, but more work needs to be done. Gregory Jaczko spent this morning at the First Energy-owned plant to see how management there has responded to concerns over worker safety and communication.
For instance when we went into some of the areas that are controlled from a radiation perspective, they walked me through a new program they have for verifying the radiation conditions that the workers will see, .which is one of the … ways they're trying to improve the program to make sure workers don't go into a situation which they don't properly understand the radiation risks that they may incur if they deviate from their planned program of work or how to better recognize when deviations are going to occur."
The regulatory commission put Perry on its national watch list earlier this year after a dozen problems occurred, and it has scheduled 20 special inspections. Jaczko says there is no deadline for Perry to reach the overall standards the NRC wants.
---
---
---
Stories with Recent Comments