Loading...


Environment



Wednesday, July 11, 2012




Youngstown's seafood experiment




Urban fish-farming is part of the rebound in a neighborhood devasted by decades of decline


by WKSU's KABIR BHATIA


Reporter
Kabir Bhatia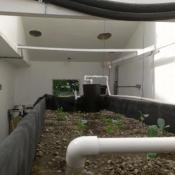 Collard greens fertilized by fish waste, which is leached into the soil, so the water can be clean when it returns to the tank, for the tilapia who produce fish waste, which acts as fertilizer for the collard greens...
Courtesy of Steve Novotny
Download (WKSU Only)
In The Region:
Youngstown's Idora neighborhood was once home to a bustling amusement park. Then the steel industry collapsed, fire gutted the park, and decades of decay followed. But today, the neighborhood on Youngstown's west-side is known for its community gardens. And as WKSU's Kabir Bhatia reports, Idora may soon offer a main course to go with its vegetables.
Two years ago, the Youngstown Neighborhood Development Corporation was in the midst of transforming Idora's empty lots into usable land. That meant tearing down abandoned homes and rehabbing the land into something useful. And today, almost every lot that isn't a residence is producing fruits and vegetables or serving as green space.

Tucked at the back edge of two adjoining green lots is a small, light blue, frame building that two families once shared as a five-car garage.

Liberty Merrill of the neighborhood coalition says part of the garage is now storage, and the rest is devoted to… a school.

"These are tilapia. They've been growing here for about two weeks. They're still fingerlings, but they're growing in an aquaponics system, which is kind of an integrated fish and plant system."

Aquaponics combines aquaculture – raising sea life in tanks – with hydroponics – growing plants in water. Youngstown learned about it from the Milwaukee-based urban agriculture group, Growing Power.

In Idora, an open-topped, 300 gallon tank houses the fish from a hatchery in nearby Leetonia. Two PVC pipes bring water in and out of the tank. It travels through a long, black trough up above and flows through the gravel where basil and collard greens are growing. The whole thing takes up less space than a pickup truck.

"Basically the water from the fish tank is pumped up into there. The fish waste helps fertilize the plants and help them grow better and get better yields. And then that's also cleaning the water for the fish. So it's a very dense system."

The system gets daylight through the roof, which is now greenhouse plastic. And a solar-powered thermal system heats the water to the 85 degrees that tilapia prefer.

For the past few weeks, of course, the heater has been switched off.

As with a lot of Ohio farmers, this summer's heat and drought have caused Idora some problems. Merrill says it sped up evaporation. But even that problem is being addressed: a water collection tank is being installed to collect rain off the garage's steeply slanted roof.

The Idora fish farm has been operating for about two weeks, and got its start with 25 thousand dollars in grants from the Youngstown Neighbhorhood Development group, the City of Youngstown and a Kickstarter campaign. It's also one of about a half dozen aquaponics labs in the state.

"This is really just a pilot project. We want to get into this because basically we can grow vegetables but if we can start growing fish and other proteins in the neighborhood, then you're really getting whole meals. So that's really what it comes down to: trying to find ways to produce different kinds of food in the Idora neighborhood."

In the past two years, the greening of Idora has brought other changes to the area.

A new grocery store, Bottom Dollar, has opened down the street. The Youngstown Neighborhood Development Corporation is converting a house into an on-site office for the urban farmers. A large potato farm is proving a hit with members of the food co-op. And a solar-powered refrigeration hut will go live in a few weeks to preserve each week's harvest.

As for the tilapia, Merrill says the fish will probably not be ready to eat till the winter, when the first harvest will go to a neighborhood fish fry.
---
---
---
Stories with Recent Comments